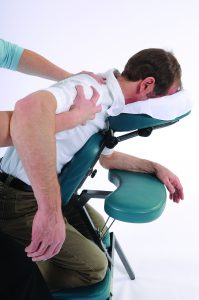 Seated Chair Massage: 
If you only have a short break but need some targeted work on your back or shoulders, come in for a seated chair massage. You remain fully clothed and are seated in a comfortable massage chair so you can relax and return to work refreshed!  Great for relieving stress and aggravating muscle tightness from too much time spent sitting in front of the computer!
Corporate Massage:
Shown to improve mood and to increase productivity in the office setting, we will provide seated chair massage at your office! Designed for the office worker who needs a quick 15-20 minute massage focused on the back, neck shoulders, arms and hands. Contact Tracey if you are interested in treating your employees to massage therapy at your office (a minimum of 3 hours is requested).
"If a man insisted always on being serious and never allowed himself a bit of fun and relaxation, he would go mad or become unstable without knowing it."  – Herodotus